To introduce this page, we want to let you know that some of the information overlaps between services.
Such as, if you want to increase traffic, search engine optimization can absolutely help, but digital advertising can be a great option as well. For that reason, you will see additional services discussed here as well.
Search Engine Results Page or the SERP
The Search Engine Results Page is known to most people, but how it works is not.
The first items on the SERP will be paid ads, if anyone is paying for the search term, 
Next, if it applies, you will see local listings. Not all searches will apply to local listings, but if it does, this is next.
Third will be the organic listings. These are websites that the search engine like Google trusts the most and thinks matches your search the best.
Then more ads
Then related searches
Then paging, if applicable.
Q: How to get to Page 1 of the SERP?
A:  The short answer:  This is going to seem self promoting, but hire a "White Hat" SEO professional if you can. Otherwise, I suggest search ads and continuing to add and hone the content on your website.
Longer Answer:
Getting to page 1 of Google can be very difficult, but remember:
Results are based on the keyword phrase the searcher types into the search bar. The shorter the phrase used, the greater the number of websites that could possibly show on the SERP. "Quickie Mart" is very different from "Convenient Store" or "Clothing Store" versus "Children's Clothing Store."
Another important thing to remember is that rankings change based on the ranking algorithm by the search engine. Which they can change at anytime. That is why you should always have a broad strategy and focus on the quality of your content.
We recommend starting with a list of search terms (keyword phrases) and try to use longer terms and try to make them natural. Unless you have a business that everyone knows how to search for something specific, you should try and think like your customer.
Tip: Ask friends or family to write down how they would search for your type of business.
Q: What are Local Search Result?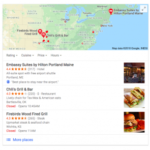 A:  Search engines assume if you are looking for a plumber, that you want someone in your local area, so it gives you the local listings from Google MyBusiness.
To the right is a generic example of the local search box you will see on the SERP.
The number 1 factor after matching the service or product being sought after, is the distance away the business is from the searcher.
So while you may want to jump up the list for someone further away than a competitor, local results will favor distance above all else.
Note: If someone types a location in as part of their keyword phrase, it can change the results.
Q: What are Organic Search Results?
A:  Organic are the oldest and most common results listed on Google or Bing. 
Who ranks first is based on the ever-elusive and ever-changing search algorithm. Changes to this equation can change your results. 
That is why search engine optimization is an ongoing and always adapting service. What worked yesterday may not work today.
Even today, mobile results can be different than if you are on a tablet, laptop or desktop. 
The first 2 items are is the site "mobile friendly" and is the site using "https" or some form of SSL certificate. If you are not sure, than you should ask your website service provider or if you do not have one, contact us and we will be happy to look at your web site and answer that for you.
After that, it begins to get really vague. Back-links, On-Page Content, Site Performance, Page Change Frequency and many others begin to factor into where your site will rank. Every website has a different path to get to page 1.
Increasing Website Traffic
Sounds like a simple question, but unfortunately it is not. 
Traffic can come from many places and YES, search engine optimization can help you get more traffic by getting you better search results.
BUT, this is not the only avenue to gaining more traffic.
You can also look at:
Digital Advertising

Search Ads
Social Media Ads, etc.
Digital Press Release
Digital Signage
WiFi marketing

Social Media

YouTube, FaceBook, Instagram, Twitter, LinkedIn, etc.

Go Traditional (this one always hurts to list, lol)

TV
Radio
Billboards, etc.

Business Leads Groups
There are many ways to increase traffic and SEO is one of the many components.
Improve Web Site Conversion
Website conversion is a term used that really means that a visitor to your website has taken the desired action of your website or the specific page that they have landed on.
Conversion Examples:
Newsletter Sign-Up
Form Submission
Product Purchase
Subscription Purchase
Phone Call
Improving these results usually comes down to directing traffic to landing pages that match more closely to the search result/ad AND optimizing the page(s), so that the visitor can find the option that you want them to take.
So, if you want them to sign-up for a newsletter, don't just have it in the footer of your page. We recommend that you make it an option at or near the top of your page or a pop-up. 
Be careful with pop-ups, they can be blocked and they can annoy people, but they can also be highly effective.
Q: What is a Keyword Phrase?
A:  This is the words that are entered into the search box on Google, Bing or other.
Phrases like; "roofer near me", "restaurant springfield oregon", "contractor that returns your phone call", "fast garage repair" and so on. 
It used to be just called "keywords," but there are so many more websites now, that a single word is rarely typed into the search bar anymore. In fact, keyword phrases are getting longer, especially with voice search.
Q: On-Page SEO?
A:  This refers to your actual website and can include many things:
Backbone of the site (WordPress, Joomla, etc..)
Mobile Friendly
Security of the site (https://)
Page Titles & Descriptions
Page load speeds
Frequency of updates
Internal Links
Words on the page
HTML tags, CSS, Scripts/code
Image names and alt descriptions
Q: Off-Page SEO?
A:  Off-page SEO is referring to the internet outside of your site itself.
Things such as:
Back-links
Quality of links
Search Engine Submissions
Directory Submissions
Q: What are Analytics?
A:  Better known as stats, analytics gives numbers that help a website owner/manager details about the website and the visitors to it.
Number of visits and unique visitors can tell you how many people have been to your site and how many of them are new.
Bounce rate is always a good one. This is a percentage that pretty much tells you how many people came to your site and left right away. While this will happen regularly, the details of where they are coming from and bouncing from can give great insight.
Conversion rate, which requires set-up, can tell you if those actions you desire are being taken.
Landing page, which will tell you what page a visitor came in on.
Search terms is always a good one, but most mature websites find that the bulk of their visitors come from the name of the site.
Region, which can help local companies prevent unwanted traffic, but also let companies that sell to larger regions know where they are or are not having success.
Like all statistics, there are margins of error, so cumulative data is always better to make decisions on than a one day or one week snapshot.
Q: Content?
A:  Yes Content, every piece of content whether it be written, image or video ultimately has an impact. 
Content is King and sometimes the right blog post, video or image can go do more for your site than all the other work done.
Generally the term used for this piece of content is "viral," but not all popular pieces of content meet that level of traffic, but still get popular enough to have a major impact on your web site traffic and even your search rankings.
Q: What about Pricing?
A:  When possible, we like to give ideas of pricing and we will probably get some together soon, but with the need to customize services to the specific website, it makes pricing difficult. Why difficult? Most of our services will vary month-to-month to try and broaden the service and lessen the cost.
Pricing starts at about $95/month, but there are multiple services starting at that price. 
To get an idea of range, our SEO services can start at the $95/month and go up into the thousands per month. Why thousands? Usually the answer is scale. National and international sites have competition on the same scale and require much more than smaller niche sites.
For our niche customer, of the small local business variety, we would estimate the average monthly billing between $300-$500 with a very different array of services in that price range.
For this reason, we highly recommend that you contact us.